At Web Essentials in Cambodia, agility also means relocating your entire company in the face of a temporary crisis.
Right around the time hot season hit Cambodia, random power outages started happening around Phnom Penh. Within a week, they were a daily occurrence, by mid-March, Electricité du Cambodge informed the public that due to extremely hot weather (thanks El Nino), the demand for electricity had gone up leading to disruptions in the power supply. Their solution? Three months of daily powercuts alternating mornings and afternoons for six hours at a time.
Web Essentials uses the agile methodology to adapt to changing requirements. Allowing us to continuously deliver working software and work in a more collaborative way. Allowing us to pass the reduction in costs on to their clients.
So how does a digitally agile company becoming physically agile in the midst of country-wide powercuts? Here is our methodology:
1. Concept (envisioning and prioritization)
We envisioned some solutions to the problem. Below our chosen strategies and their priority for testing:
Find an alternative power source (generator)
Work from coffee shops
Sweat it out at the office
Find a new office
2. Inception (defining the team, assigning funding, environments and requirements)
Our management taskforce assigned funds to test out the scenarios and develop our final requirements:
Obtain a generator. The government called on businesses in Cambodia to use generators where possible to make up the energy shortfall. A Web Essentials guiding principle is to inspire other companies and individuals in Cambodia to step up as change-agents, so we investigated this option as a first step. Unfortunately, soaring generator prices thanks to national demand made this option impossible.
Coffee shops. The regular offices of digital nomads and decentralized teams,but not a solution for an entire technology company used to working together. Slow WiFi and heavy background noise also rendered this option impossible, even as a temporary solution during the blackouts.
The Office. In order to make sure all the staff understood the options on the table, we ran a 4 hour demonstration of what the working conditions would be like if we stayed at our office with a small generator. When the power went out (50% of the day, everyday), our team of 35 would move into a restricted space (instead of spread out over two floors), with 5 fans to combat the 40C (105F) environment. Opinions were split.
Co-working space at "The Factory" (Workspace 1). Through our network connections, we decided to run a day test at a local co-working space, Workspace 1 at The Factory. Workspace 1 is a mixed-use office, creative and co-working space that opened up in Phnom Penh in 2018. They are focused on cultivating the next generation of entrepreneurs, makers and creatives professionals in Cambodia. There were some natural bumps in the road - new location, new routine, different supplies. But overall the test was a success and the generator-supplied air conditioning and stable WIFI was greatly appreciated.
3. Iteration (delivery based on iteration requirements and feedback)
After spending a couple of days at The Factory Phnom Penh and doing the one day test of a low-power office, we gathered qualitative and quantitative feedback from staff about the viable solutions.
We decided that for business continuity, The Factory Phnom Penh was going to be the solution to deliver. Our senior leadership worked with The Factory team to come up with fair terms for a short-term lease of a mid-sized company, that incorporated the feedback of our staff. This included meeting rooms with air conditioning to allow the smooth continuation of check ins with our clients around the world.
4. Release (testing, training, document)
We moved in, and after about a week at Factory Phnom Penh, we fell into a groove of making our new workspace home, bringing in our own computer monitors, printers, phones, and coffee machines. We adjusted our internal processes and guided our staff on how to collaborate in the new space.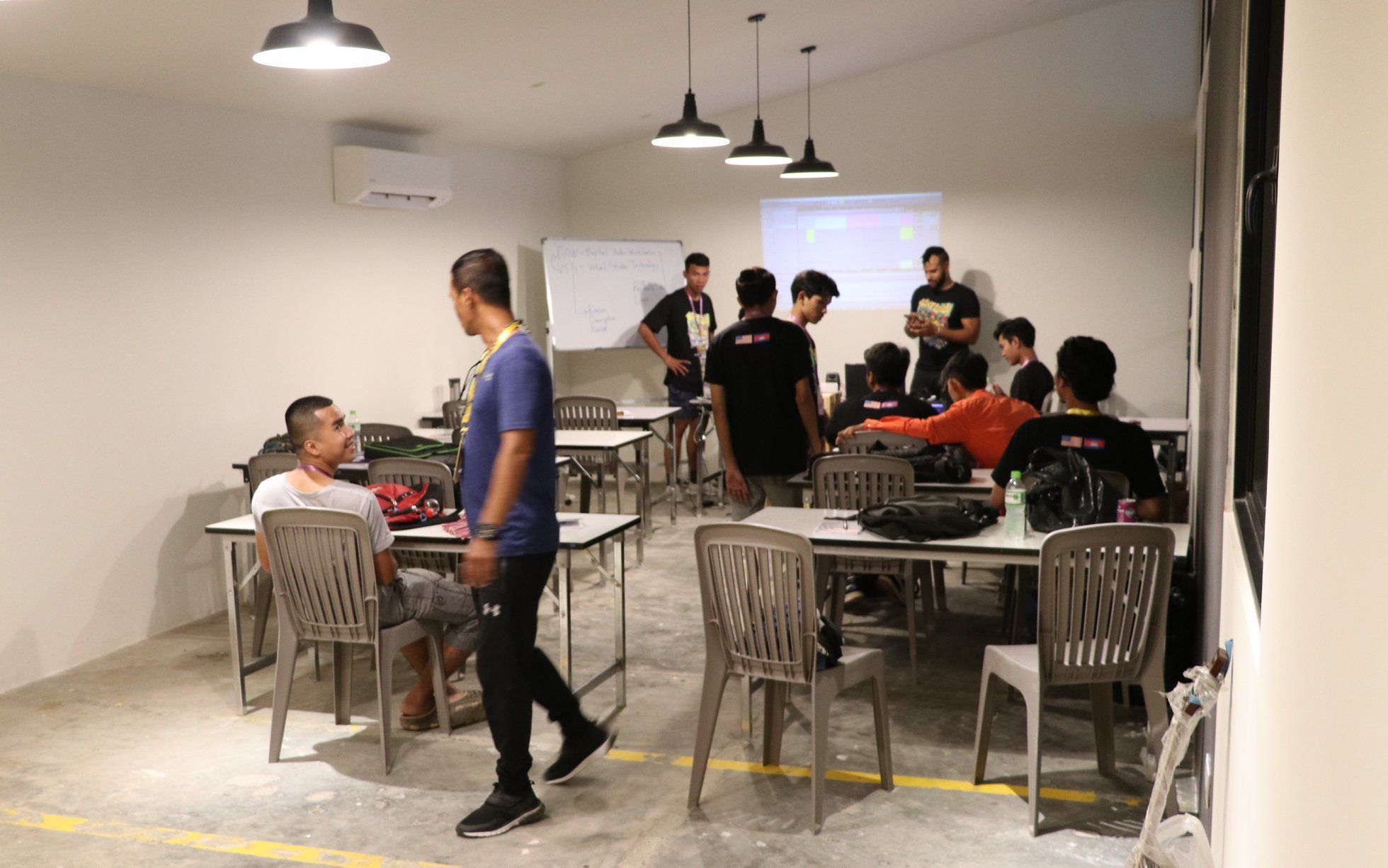 The Factory Phnom Penh prides itself on being dynamic. Providing a great working space for creatives to focus and get their work done. They provide a ton of extra benefits to their members, including events (like public speaking classes) and networking opportunities where you can meet people from different cultural and professional backgrounds.
They have spent a lot of time listening to the needs of their members to offer personalized benefits to their community, including monthly breakfast clubs, board game nights, and book exchanges.
While coffee shops can be a poor place to focus on work and offer slow WiFi, The Factory Phnom Penh is a place that maximizes the space they have to offer professionals as a one-stop-shop to be as productive as possible. Even if you need a mental break, you can go for a walk, ride a Factory bike around, drop into the NGO-run skate park, Skatistan, check out an exhibition at the inhouse gallery or jump around at Fly Phnom Penh, an indoor trampoline park. Coming soon, a new brewery for post-work beers!
They have been very dedicated to creating a carefully constructed space to maximize potential output while being considerate to the needs of their community.
The Factory Phnom Penh aligns well with the priority Web Essentials places on its employees. Physical and mental health is important to Web Essentials, and we promote daily breaks, community meals, and sports - all of which are on offer here.
Like what you are hearing? Come and work with us! For more information check out our open positions.
Want to learn more about The Factory Phnom Penh? Check them out on Facebook. Or stop by and ask for a tour!
The silver lining to this entire power crisis is watching organizations work collaboratively to find solutions and share. We are, after all, all in this together.
Recently, I experienced this myself. I was scheduled to teach a quarterly class on social media with a local nonprofit, who couldn't afford their own generator. My class had been scheduled for weeks, fully booked up and I was ready to go. Within a few days, the local nonprofit had reached out to their partners and secured a meeting space for us to use for the class.
Another creative way people are finding ways to stay "powered up" during the outages. A friend of mine works for a local nonprofit that builds demining robots here in Cambodia. There is a big push to make Cambodia landmine free by 2025. To make sure he has enough power during the power outages, he makes sure all his robots are charged when he still has power, then uses the robot batteries to run everything from his computer to fans when he doesn't have access to power!
5 Ways to Work During the Power Outage:
Caffeine = Power! Increase your coffee budget and hang out at the various coffee places offering generator supplied power.
Becoming a power zombie. Change your working hours to mirror those hours that you have power.
Phone. Buy the unlimited cellular plan and hotspot.
Make friends. Find someone who's apartment or office is on the opposite schedule as your apartment or office and swap back and forth.
Once this period of low power is over and we move back out of the Factory, we will call the entire company to a retrospective to learn some lessons about how we coped as a team in the crisis, and how we could do better in a future scenario.
That is how we continue to be agile.
Want to learn more about how our agile attitude could help you solve your technology problems? Schedule a call today!