Most marketing managers, SEO consultants, developers, CEOs know how big a website relaunch can get, how many resources it can swallow and how long it can take. That was certainly the case for United Security Providers (USP), who had already invested a lot into the current iteration of their website.
We are very excited to go live with a new version of https://www.united-security-providers.ch/ to coincide with their 25th anniversary. But instead of a complete relaunch starting from scratch, they took the smart approach of a "lightweight redesign" based on continuous improvement.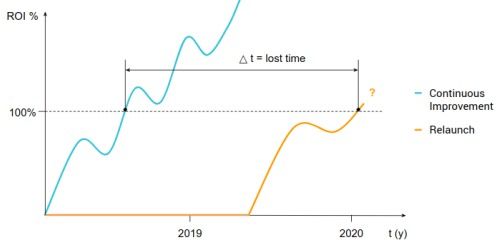 The Benefits of Continuous Improvement
Use website performance data to strategically prioritize what to improve immediately
Only change elements that improve results
Rapidly roll out new features getting faster ROI
Make informed decisions based on data rather than aesthetics
Retain valuable information such as SEO rankings
Save significant costs compared to a relaunch
Build on the hard work you have already put in -> evolve rather than start from scratch

How United Security Providers got a Strategic New Look
Performance Analysis & Quick Fixes
We used Google Analytics and simple heatmap tracking with Hotjar to understand existing user behavior. As the website wasn't getting a complete overhaul, our online marketing expert was able to make recommendations that United Security Providers could implement immediately, which were the first steps in the continuous improvement process.
Selective Design Changes
The designer took the current look and feel of the website and updated it with a focus on mobile-friendliness, modernization and usability. Some highlights:
Responsive design
Clearer call to actions for contact and newsletter sign up
Navigation improvements (including breadcrumbs and more menu options, with a particular focus on mobile)
Font improvements to produce a more coherent reading experience
The goal was to keep technical work and cost to a minimum.
Performance and Security Upgrades
We updated the website to the latest TYPO3 CMS version (find out what's new in TYPO3 V9). The upgraded CMS delivers increased security, speed and user experience for editors. We also cleaned up old custom extensions that were costly to maintain and replaced them with standard extensions for future maintainability and scalability.
The Result - Evolution instead of Revolution
United Security Providers and their customers get a "new" website to celebrate the impressive milestone of turning 25. A website that is not the result of a complete overhaul, but data-based design optimzations that build on the effort they have already invested. Looking forward, they can further tweak the design in small iterations in order to continue interact with their visitors in a user-friendly and agile way.
Want to find out more about lean website redesign? Schedule a call today!