What are Innovation Days?
Our Innovation days are creative times that create a unique space for people from different teams to develop innovative technical solutions together. Over two days, the whole company divides into teams to tackle problems related to themes chosen by the innovation committee.
This time those themes were machine learning and chatbots.
Machine learning to take advantage of our recent partnership with Seng Kheang, professor and machine learning researcher at ITC university (Institute of Technology of Cambodia) and chatbots to build on the progress some of our developers have already made in this field for our customers.
As in previous innovation days, after two days of intense development, each team presented their projects and everyone votes for their favorite.
Why do we Invest in Innovation Days at Web Essentials?
We work as a unique team
Our innovation day teams are made up of people that don't always work side-by-side. This approach strengthens inter-team communication and fosters innovation through experimentation among groups with varied skillsets. Each team member uses their different strengths to work together and lead their team to victory.
We create something awesome under pressure
The fun challenge is to create something impressive in a limited timeframe.
We think outside of the box
Our innovation days give our team space to think about creative but also strategic new solutions for problems using techniques including Atlassian's "Experience Canvas". The goal is to develop new entrepreneurial and technical skills and everyone learns new creativity & innovation tools.
We get rewarded
There are prizes for 1st, 2nd and 3rd place, but everyone wins new knowledge and tighter bonds with co-workers by the end of the event.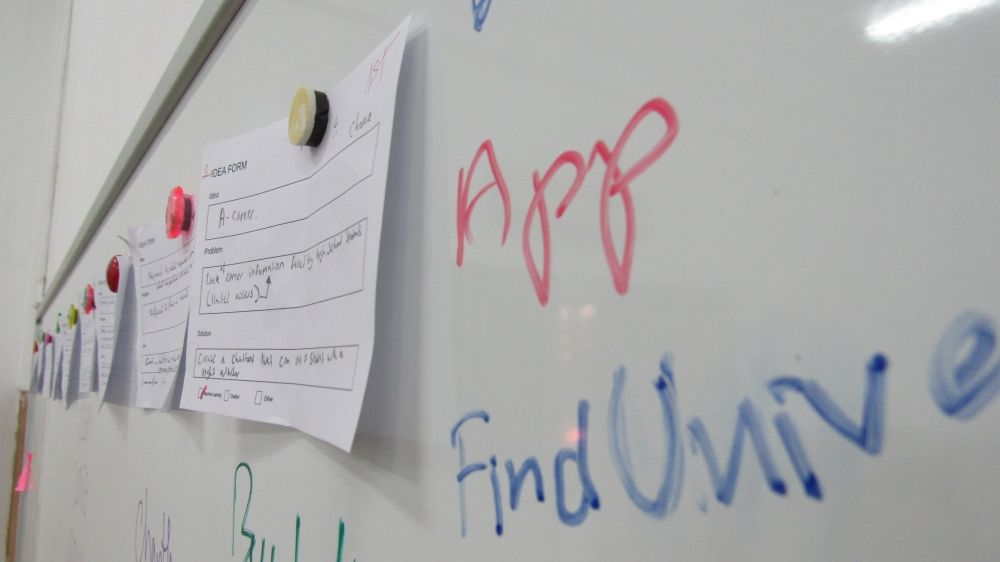 Innovation Day 13 - as it happened
Day One
The first day began with an inspiring speech and ice-breaker activity to energize everyone on a Monday morning.

The previous Friday, the whole company had already brainstormed and whittled 40+ problems machine learning or chatbots could solve down to only nine based on the following criteria:
Usefulness: who benefits from it? How many people? How often? What is the impact?
Effort: how many resources are needed to build it? Is it scalable?
Competitiveness: has it been done before? Can we do it better?
Profit: is there reselling potential? How big is the potential market?
Team members raced to put their name down under their favorite idea, before the limit of 5 people (including max two senior developers to keep things even) per team was reached.
The five final teams then spread out across the Web Essentials HQ to create an "Experience Canvas" for their project. Similar to a creative brief, an Experience Canvas clarifies the problem that needs to be solved. It outlines the project scope, who it's for, why it is being done, the expected results and how it will be used.
Once time was up, each team presented their proposed solutions to the entire company so everyone knew what they'd be working on.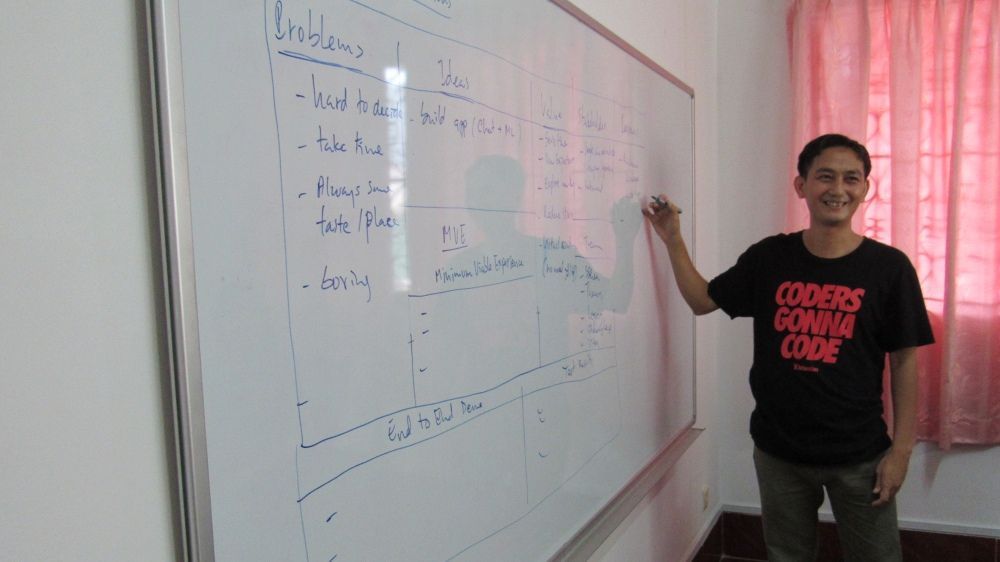 The Final Machine Learning & Chatbot Project Contenders
Lunchbot: an intelligent chatbot to relieve busy colleagues from making the important daily decision of where to head for lunch
ChatOps: not technically a chatbot, ChatOps is a Hipchat room where you can enter a command to get fast access to important information related to an SLA of JIRA tickets, server status or Google calendar without the need for user authentication
WEChat: a reimagined chat function for www.web-essentials.co using DialogFlow, that can give automated answers to visitor queries about our digital products and services
Leave Assistance Bot: a chatbot that will help Web Essentials staff apply for sudden sick leave by voice or text, and communicate their absence to their colleagues via notifications and automated meeting cancellations
Career Matcher: Taking inspiration from the words of Plato "The direction in which education starts a man will determine his future life" this team developed a digital career advisor using machine learning with TensorFlow
Experience Canvas done and gauntlets laid down, the teams then hid themselves away around the office in working hubs to bring their ideas to life. Each hub acted as a project incubator, with team members communicating frequently to keep up their problem-solving momentum.
With the daily work off the table and the competition in full swing, the office buzzed with unbridled creative energy and focus. Some team members acted as free radicals in their downtime, bouncing from group to group, sharing laughs or friendly aid.
An innovator can't subsist on creativity alone, they need fuel for mind and body. A shared lunchtime meal brought the whole team back together and showed that we are all working towards the same goal, even if we're on different teams.

After eating, everyone rejoined their teams to continue working on their projects. Pushing past the lunch slump, spirits and creativity were resurgent. At the close of the first day, many teams had already made impressive progress. With such promise shown in such a short time, anticipation was high for the final voting on day two.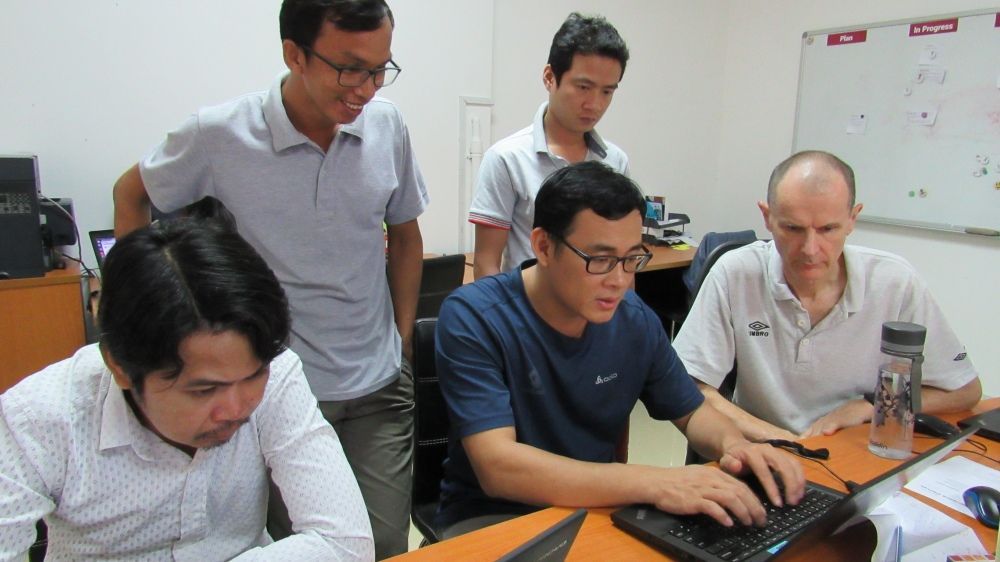 Day Two
The second day of this company-wide event continued like the first, with teams under increasing pressure to reach the Minimum Viable Experience (MVE) for their project in time for the presentations. The MVE is the smallest, easiest, fastest-to-make version of their idea that can reliably prove the hypothesis outlined in the Experience Canvas the previous day.
Once again a communal lunch stilled the pressure and allowed participants a chance to rest their minds and prepare for the last-minute problem-solving of the final stretch.
After lunch, teams wrung out the last drops of their creativity, teamwork skills and ingenuity to take their projects to a usable and presentable state, ready for their chance to take the top spot.
Now it was time for the presentation of each team's prototype and a Q&A session where contenders could grill each other on the viability of their MVE.
The presentations were (as always) a delicate balance of technical prowess and crowd-pleasing. Not just because of the Cambodian wicked sense of humor, but because our teams know that when the competition is close, a well-aimed joke might win you the final vote.
As well as the Web Essentials team, we were very happy that Ms. Bonyka–representative of the Telecommunication and Electronic Engineering Department of local university RUPP–was present to witness the technical achievements of our staff.
Voting time
Voting was open to everyone in the company and done anonymously online. As voting concluded, tensions were high as teams wondered if they would be the one to come out on top this time around.
And the winners were…
Leave Assistance Bot
WE Chat
Lunchbot
The crowning glory went to the leave assistance bot, whose voice interaction and slick delivery won over the crowd. But it was a tight race, and really impressive what each team produced using technologies and advanced concepts that for some were completely new.
What did we learn?
Some technical teammates commented that the collaboration with non-technical team members helped them produce a better output for end users. Others celebrated the chance to experiment with new technologies and to be able to complete a project in such a short time.
The feedback this year was overwhelmingly positive with 100% of employees voting YES for the next innovation day. We're looking forward to it already.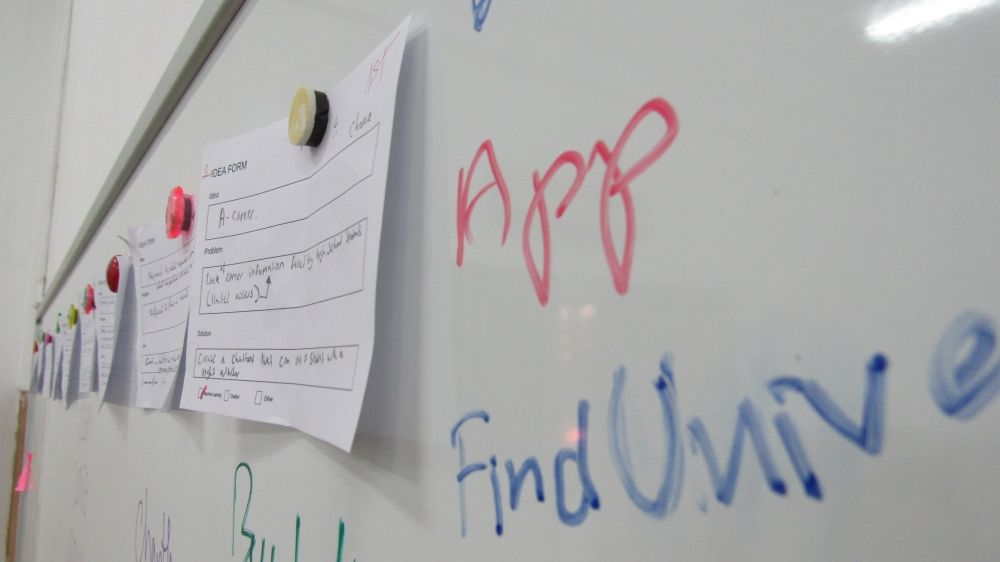 A look back at the Innovation
Looking for a passionate and creative team of developers to work on your project? Talk to us today!