Mission 21 is a 200 year old community of churches and organizations across Africa, Asia and Latin America. They are a partner of the Federation of Swiss Protestant Churches (SEK) and the Swiss Agency for Development and Cooperation (SDC)
Mission 21 enables theological and cultural exchange and support more than 100 development projects with over 70 partners across 20 countries. We built a powerful website to better promote their projects, activities and achievements and increase online donations
Website

mission-21.org

Client

Mission 21 Missionswerk Basel

Services

UX Design

SEO

Team

1 Product Owner, 4 Developers, 1 QA developer, 1 Technical Lead, 1 Infrastructure Specialist,

Technology

TYPO3 CMS
Business Benefits
Stronger Brand Presence
The bright design gives visitors a fresh brand experience and attracts a new generation of supporters
Lower Barrier for Donations
A donation button and bar on every page gives visitors inspired by Mission 21's initiatives a clear call to action to donate
Improved UX
A layout and navigation restructure and improved search makes it easier for visitors to access project information
The Challenge
The website was heavy and slow to load
Multilingual functions were not working correctly
The information structure was complex and difficult to navigate
The website was restricting the the potential of digital marketing
The outdated design didn't represent Mission 21 as a brand
The website didn't highlight their strengths and specializations
Mission 21 wanted to attract a younger demographic on top of their existing mature donor base
The team wanted to increase donations while remaining compliant with ZEWO certification guidelines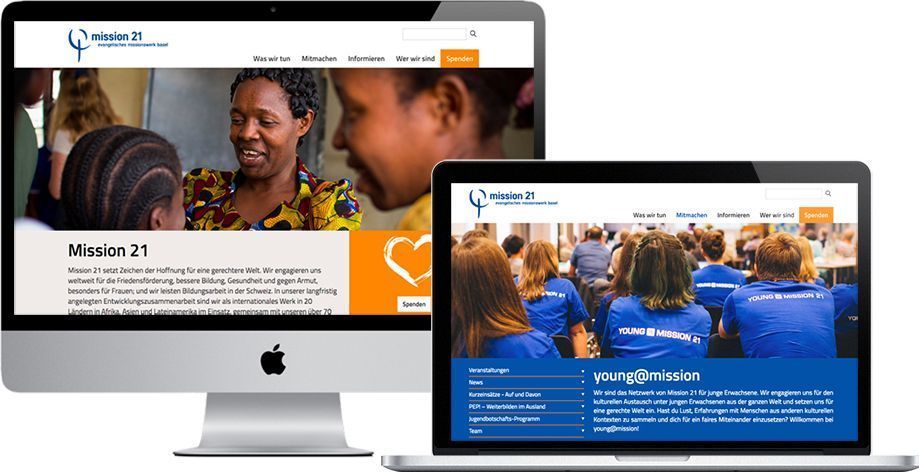 Highlights
Leaner Design and Content Structure
A modern and uncluttered design by Spinas Civil Voices delivers a positive experience of Mission 21 as a brand
Optimized images and video reduce content without reducing the message or compromising site performance
A dynamic filter page allows users to search for projects and partners in real time
A dedicated section for youth galvanizes a younger demographic to engage with Mission 21, with volunteer testimonials, social media integration and an even more colourful design
A unified layout and navigation restructure makes it easier for users to access information
Lower Barrier for Donations
The donation button and bar on every page presents visitors inspired by Mission 21's initiatives with a clear call to action to donate
The clean, one page donation form lead users step by step through a simple donation proces
Generic donations are default so Mission 21 can allocate funds themselves to high-need projects. Donations by project are still possible on the project pages
Easy Content Optimization with TYPO3
Editors can zoom in on the global map in the backend to show continent, region, city in the frontend, without needing to look up coordinates
The responsive image cropping tool allows editors to crop one image for multiple devices directly in the backend
The flexible theme styling gives editors many options for content presentation
The website was built using T3kit–a common standard developed by several TYPO3 agencies for better configuration of TYPO3 websites–with out-of-the-box SEO optimization to improve Mission 21's onpage SEO
We had very specific ideas about what we wanted the website to look like. The end result is a user-friendly responsive website that distinguishes our brand and enables us to meet today's high demands regarding website performance
Meret Jobin, Mission 21
Why this Project was Special
Collaboration for Social Impact
This modern website is the product of the combined expertise of three businesses with a social purpose: Mission 21, Spinas Civil Voices and Web Essentials.
Together we built a digital tool to inspire and motivate people to help Mission 21 reduce poverty, improve education and healthcare, and to promote peace and women's rights across Africa, Asia, and Latin America. The project creates positive social impact on the lives of people in need.
Maintenance
Ongoing support and maintenance via an SLA warranty gives MIssion 21 priority service and support via JIRA Service Desk
Like what you see?
Do you want to make the next step with your product?