Grasshopper Adventures offer bicycle tours across Asia, ranging from one day trips to cross-country multiple day adventures.
The business had outgrown their existing website and Grasshopper needed a partner for a new website that would drive more bookings in a very competitive market. We developed a Neos website with a sophisticated filter system that provides a better user experience for customers and relieves internal resources.
Website

grasshopperadventures.com

Client

Grasshopper Adventures

Services

UX Design

SEO

Users

150,000+ visitors, processing 15,000+ booking a year
Business Benefits
Increased Traffic
The number of sessions increased by 19% following the relaunch and improved SEO meant organic traffic increased by 8.5% in comparison to the previous year
Improved UX
6 months post-launch, the UX-centered design meant that users stayed on the site 6% longer and viewed 66% more pages. Bounce rate also decreased by 8%
Efficient Processes
The new website connects and communicates information across two systems, reducing the manual resources needed to manage tour information and bookings
The Challenge
Satisfy specific "look and feel" requirements - clean, simple, elegant, logical, with a little less green
Develop a website to equally serve two different customer groups - day trippers and multi-day adventurers
Enhance the tour searching and booking process so that more tours are booked online
Connect with the client's existing booking management platform (REDZY) where bookings and tour dates are managed
Provide intuitive navigation on both desktop and mobile for travelers on the move
Reduce the internal resources needed to manage the tours and bookings
Assess and optimize Grasshopper's digital marketing strategies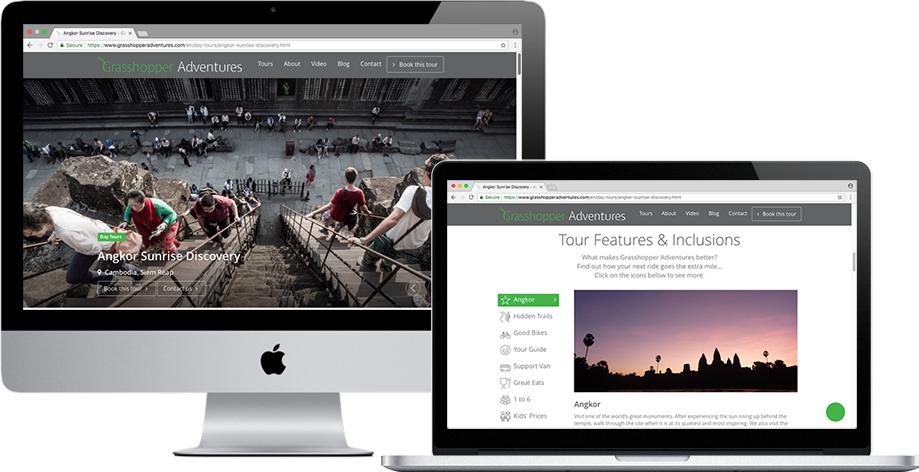 The Solution
User Experience
Developed a detailed filter quickly narrows down tours by dates, interests, ability and budget. The Sales team can now send a selection of custom urls with saved searches to prospective customers
API Integration
Developed a Flow application that establishes an API to seamlessly pull/push real-time information to/from a third party tour booking system, removing the need to manually update tour dates or live booking availability on the website
Integrated 6 different subscription accounts for the booking system via custom API or iframes using 6 different payment gateways to the website so tour agents can set prices and process bookings in their own currency
Content Management
Neos CMS imports detailed tour information automatically and creates data assets that can be edited and previewed inline
Marketing
Conducted an audit of current Adwords spend, competitive website analysis and gave advice on how to capture more orders
Delivered a website based on customer-specific SEO best practices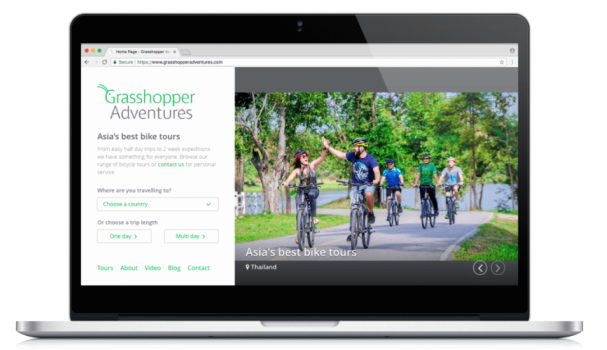 This was the first website that we did not develop internally and it was the first where we wanted to integrate other systems into the site. We found this a challenging, but ultimately rewarding experience. We may have been difficult customers at times, but our reactions were probably normal for an organisation taking a step into the unknown and giving up quite a lot of control to a third party. In the end, we are very happy with the result
Adam Platt-Hepworth
CEO, Grasshopper Adventures
Why this Project was Special
International Network of Experts
A challenge of this project was to take a technically complex and dynamic product and make it look really simple for users. Web Essentials called on our network of experts to create a powerful website optimized for UX and SEO, putting international expertise from Australia, Germany and Switzerland into action in Cambodia. An SEO/SEM consultant audited existing practices and we implemented recommendations to improve performance. For the design, we brought in UX design expert Christoph Ono to build on the client's initial concept and shape the large amounts of information into an engaging user experience.
Better use of Internal Resources
The logistics of a multi-country, multi-currency and multi-platform set up was generating too much manual internal work. To reduce international money transfers and the burden on Accounting we integrated 6 different payment gateways for 6 different Redzy subscription accounts on the website via iframes or a custom built API. The day tour business units across South East Asia can now set availability and pricing more independently of head office and process their own payments. Importantly, the team now only needs to update tour information in one place instead of two. If Grasshopper updates or adds a new tour to the booking platform, Neos CMS pulls in the information and renders it into content elements in the backend to automatically create new tour subpages, which even a non-technical content editor can easily edit inline and push live.
Differentiating between Customer Groups
How to create one website to serve two distinct customer groups? A filter immediately prompts website visitors to select either one day or multi-day trips and leads them on two different customer journeys depending on their choice. The one-day selection is geared for fast and easy conversions - users can browse tours, live booking availability, book and pay online immediately. Multi-day tours are a bigger financial investment and often booked by customers home planning a trip in advance. Riders are guided through the longer user journey and provided with in-depth tour details, dates and a more detailed registration form to request a booking. Both tour types can be filtered in detail according to location, style, length and difficulty.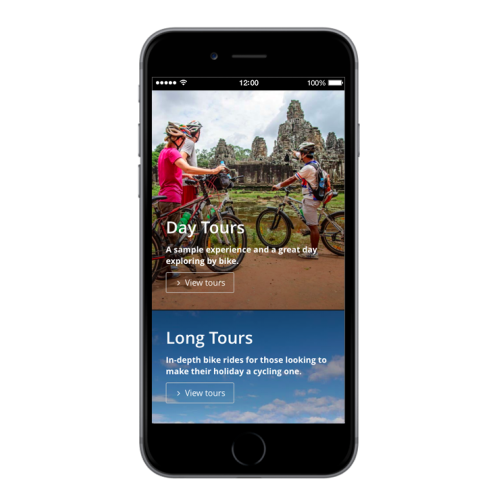 Optimized for mobile users for tourists
Grasshopper Adventures' commitment to an ambitious, cutting-edge project and Web Essentials' ability to bring together the required expertise from different corners of this globe made it possible to create this beautiful website.
From a technical point of view, It was an interesting challenge to push the boundaries of Neos CMS - which was still quite young at this point - in order to optimize the admin work and to enable a great user experience.
Christoph Lüthy
Senior Account Executive, Web Essentials
Maintenance
Ongoing support and maintenance via an SLA gives Grasshopper priority services to implement small improvements and to keep the website up to date.
Like what you see?
Do you want to make the next step with your product?