The Women in Tek Program is supported by USAID Cambodia and Pact Cambodia Office and is implemented by The Asia Foundation and Tek4Good.
This event was designed for female entrepreneurs and coders and included an expo where members of the Women in Tek Network could demo the products they have created, many of which can help other entrepreneurs with their businesses. It also brought together three strong female leaders during a speaker session: Natalja Rodionova, the founder of "Sisters of Code", the first Cambodian female coding club that aims to encourage female students to try programming skills and develop their confidence, Sokneang Neng CEO of Cambodian e-commerce platform "Kokopon", and Jitka Markova, the Program Lead for "500 Startups" in Cambodia, a venture capital firm on a mission to discover and back the world's most talented entrepreneurs.
The three women shared their ideas and lessons learned as women in business and technology, with the goal to encourage other women to develop their expertise. They also stated their desire to work together with the female entrepreneurial community in Cambodia to support each other and solve social problems in Cambodia.
My key takeaways from the speaker sessions were: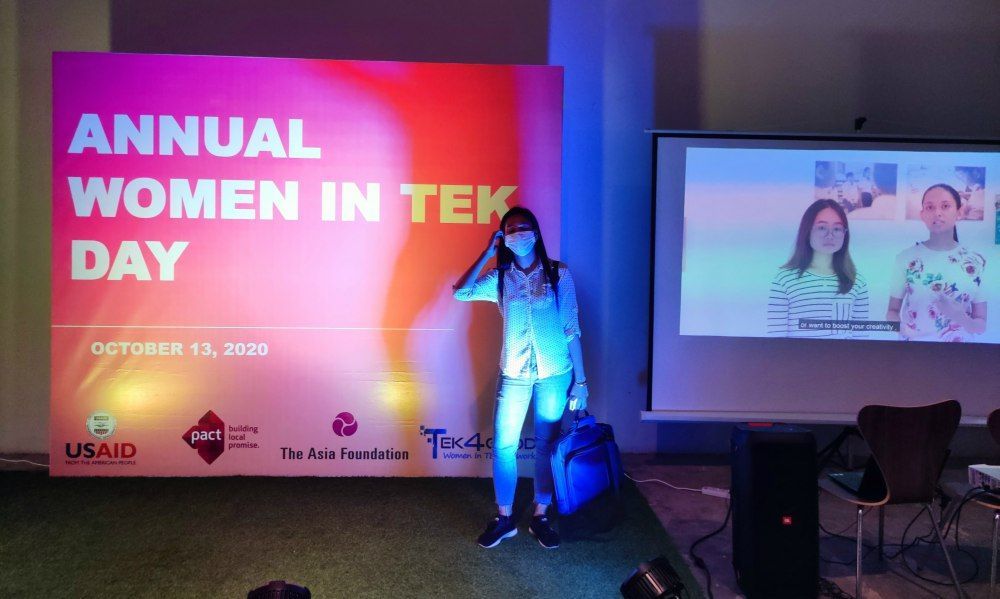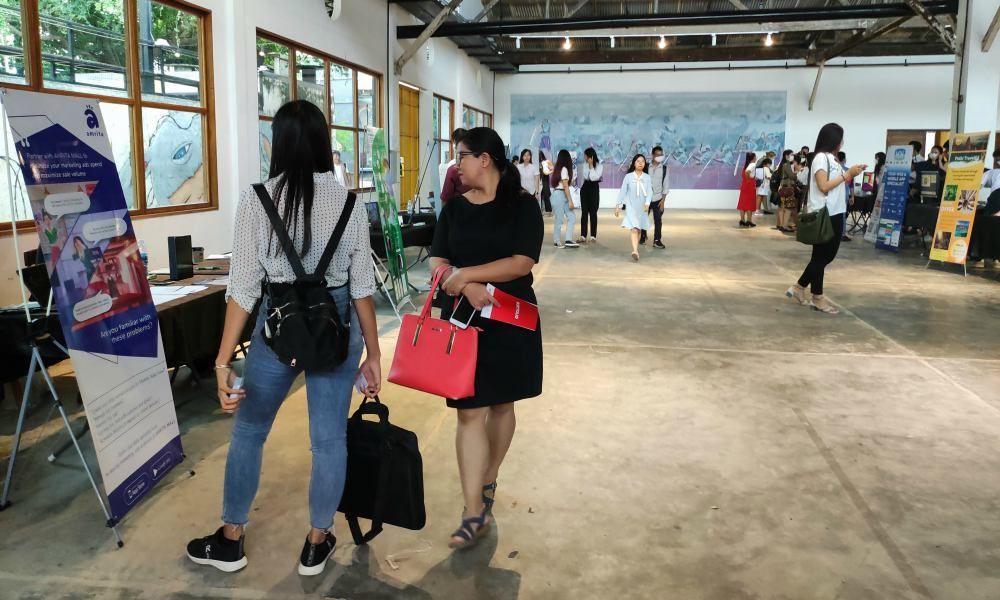 The gender gap in technology is getting smaller but is still there
Natalja mentioned that since 2015 when she first arrived in Cambodia, the percentage of girls studying tech has increased from around 8% to 20%.
Web Essentials first hand experience reflects this trend, and 35% of our current developers are female, which as an HR team member, is something I think we can be proud of.
Girls need to overcome barriers put up by all corners of society
In Cambodia, women starting to program sometimes need to challenge gender discrimination from family members, fellow students and colleagues. Housework and looking after family and children is often seen as the women's responsibility.

As students: the family often has heavy influence on their career choice, and they might be shy to share their ideas or request support from fellow students or teachers. They are also expected to help out at home before and after school which limits study time.

As employees: they then need to balance at work and home life, including child care, and prove their ability - that women can code or lead as well as men. Key to this is strong communication skills and learning how to build up your own reputation inside the company.

As entrepreneurs: the speaker discussion highlighted how young female entrepreneurs find it hard to shake off the household responsibilities after graduating and starting their own business. And after having children, childcare takes up a lot of their time, unless they can afford external help.

This impacts their ability to introduce themselves to the business community, expand their network and work on their business strategy. Due to these commitments, it was mentioned that sometimes clients will prefer to partner with male entrepreneurs as they assume they will be more available.

From my own experience talking to female colleagues and friends, if they decide not to marry at a young age and focus on their business instead, they often come under increasing pressure from family and society to find a partner, and are less likely to receive family financial support for their idea. It was great to see how many successful females were at the event and to be able to learn from their experience.
Start small and find original solutions to the real problem
The message, "start small and grow big" was mentioned again and again by Jitka as advice to young Cambodians looking to start their own businesses. To succeed, the speakers also advised the attendees to focus on developing their own original ideas, to think outside of the box and find creative solutions to challenges facing society. They need to stay on top of developments in technology and how to use it to their advantage, and dig deep into user pain points and their own challenges so they can design better solutions.
Don't give up
Persistence is key: Sokneang Neng mentioned that to start with, her family did not understand what she was doing. The process was a mystery to them. But as she succeeded to support Cambodian farmers sell their product through her platform Kokopon , they understood the result, and were proud and supportive of her.
Build a community
The speakers encouraged women to get together and support each other, for example developing their own female business gatherings and roundtables to complement existing community events, and to bring in new entrepreneurs and women in tech to their network.
Thanks to the event organizers and speakers for this inspiring event, we believe in your message and will continue to support female coders and businesses in Cambodia and beyond!
See more photos of the event on the TEK4Good Facebook Page.
Want to build a product with a like-minded company? Get in touch