Web Essentials loves TYPO3, and since 2010, we have been spreading the news and demonstrating the potential of the enterprise-level CMS to diverse clients, including banks and government ministries. We have run international TYPO3 conferences, sent developers to Europe to get TYPO3 certified, and invested in building up capacity in this high quality CMS.
On 16th December 2020, the TYPO3 Association organized an online meet up: the TYPO3 International Meetup Day which gave us the fascinating opportunity to see the challenges and opportunities other non-European based agencies have faced along their own TYPO3 journey.
Here is a recap of the key points raised, interesting for both developers and future end users:
TYPO3 in Asia and Oceania - current status and perspectives
Opportunities
Stevo O'Rourke - Director of Ocular, from New Zealand, mentioned that as an enterprise-level CMS, TYPO3 can come with a 3 month learning curve for developers, however this investment is worth it.
During the session, Simon Dawes, Managing Director of Cerebrum (Aust) Pty Ltd from Australia mentioned his clients like the security and stability of TYPO3. He owes the 14 year relationship with one client partly because because of their satisfaction with TYPO3. He believes TYPO3 has a big future in Australia.
It is exciting to see the potential beyond German-speaking countries, where it is already so popular.
Nitin Chauhan - Director of NITSAN Technologies also mentioned that Indian companies and organisations are getting interested. "It's great that TYPO3 documentation is in Hindi and it gets the community excited".
Challenges
As already mentioned, TYPO3 has a long learning curve for developers. Employers find it tricky to hire TYPO3 developers because the CMS is not studied at university or commonly used by other local suppliers. Stevo O'Rourke mentioned that the government encourages investment in Silverstripe CMS, and his company is the only one in New Zealand offering TYPO3. The lack of competition in the market is actually a challenge. Buyers are concerned that if the business closes there is no other company to pick up the project.
Why Choose TYPO3?
High Security: there is comfort in the release model, and clients can be assured that security is kept updated. We recommend TYPO3 to our banking clients for this reason.
Sustainability: Simon loves that TYPO3 continuously evolves to improve. Though he has a love/hate relationship with composer. Some clients have started with TYPO3 V3 and now are upgrading to V9 and V10. Stability is important, and TYPO3 is stable and long lasting.
Solution Offer: TYPO3 is easy to use and connects to many Microsoft APIs. Simon built many big sites at a large scale that can integrate with ERP systems. Web agencies can use TYPO3 to envision a custom solution that integrates deeply with their client's existing systems.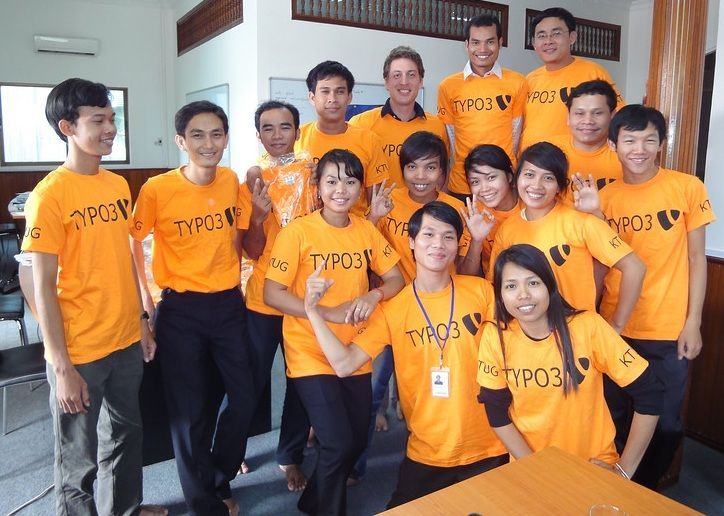 What about the status of TYPO3 in Cambodia?
Web Essentials started as a TYPO3 agency, and have built up capacity in the local market in Cambodia, while building websites to serve customers in Europe and locally. You will find a Web Essentials alumni and TYPO3 developer in many tech companies and IT departments of big corporations across Phnom Penh.
Some of our proudest acheivements with TYPO3:
2010 - Now: Multiple presentations at TYPO3 Conferences in Dallas, Frankfurt, Berlin, Phnom Penh.
2010: Web Essentials Brings TYPO3 to Barcamp Phnom Penh2011: First 2 Cambodians to become TYPO3 certified Integrators, at Developer Days in Switzerland.
2012: Organized and hosted T3CON12 ASIA in Phnom Penh, the first TYPO3 conference in Asia.
2014: Founder Dominik Stankowski elected to the TYPO3 Expert Advisory Board, and launched ABA Bank TYPO3 website - one of first responsive websites in the local market.
2015: Organized and hosted T3CON15 ASIA in Phnom Penh, the second TYPO3 conference in Asia.
2016: Contributed to development of t3kit, a starter kit for TYPO3 developers
2020: Launch of multiple TYPO3 websites, including banking, tourism, Cambodian government ministries, co working spaces including Sathapana Bank, vbl, Mission 21

Web Essentials really loves the TYPO3 CMS and is really proud of our position of being the strongest web agency TYPO3 developer base in Cambodia.
As well as recommending it to our customers, we also highly recommended TYPO3 CMS to all developers to challenge themself with a new technology and grow their careers.
Ready to future-proof your business or department with the help of technology? Talk to us today!